I'm a fan of many bikes. I have my current garage consisting of 4 motorcycles, 3 of them running and one donor bike for the engine swap. I have my bucket list – of a dream garage, another wishlist for more down to earth machines to buy. There is also a kind of motorcycles list – consisting of machines that I love, but I'll never buy, as I believe they will always lose to the bikes from the lists above.
Triumph Scrambler is one of these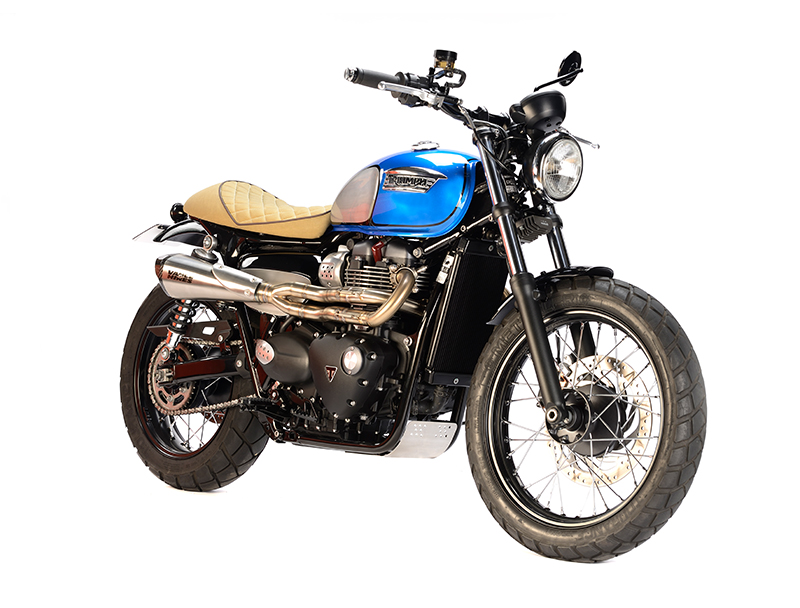 Fortunately, I have this blog to admire and share. With over 200 posts written, and the number is growing – I find myself sharing and checking the bikes that I had the opportunity to write about. And it turns out that this Triumph 900 is the first Scrambler from this brand featured here.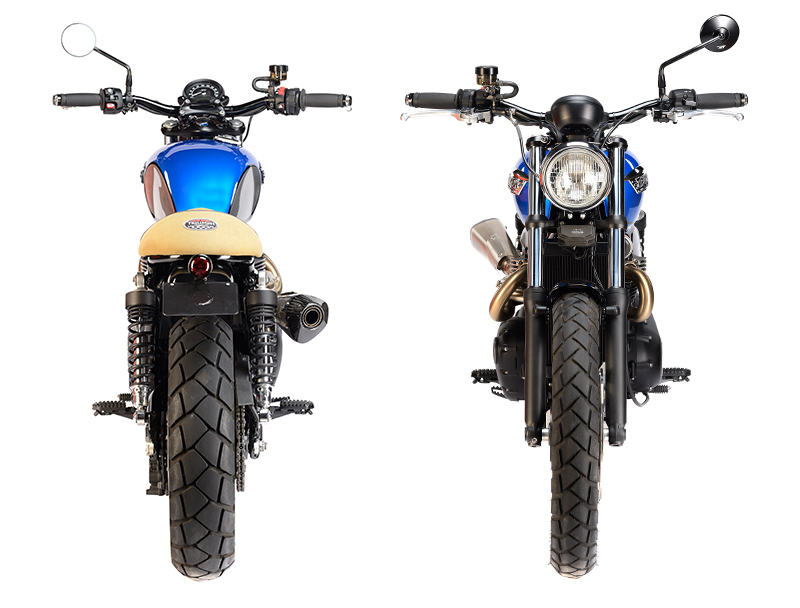 Customised by Felix Motocyclette is a beautiful blend of the fresh and characteristic looks of a Scrambler with the candy looking paint job and high key photoshoot.
I sometimes wonder if the fact of "damaging" such a young bike (assuming that the rider is ok after the incident) isn't a good thing. As then You get to modify it during rebuild without any doubts about losing warranty or lowering its value.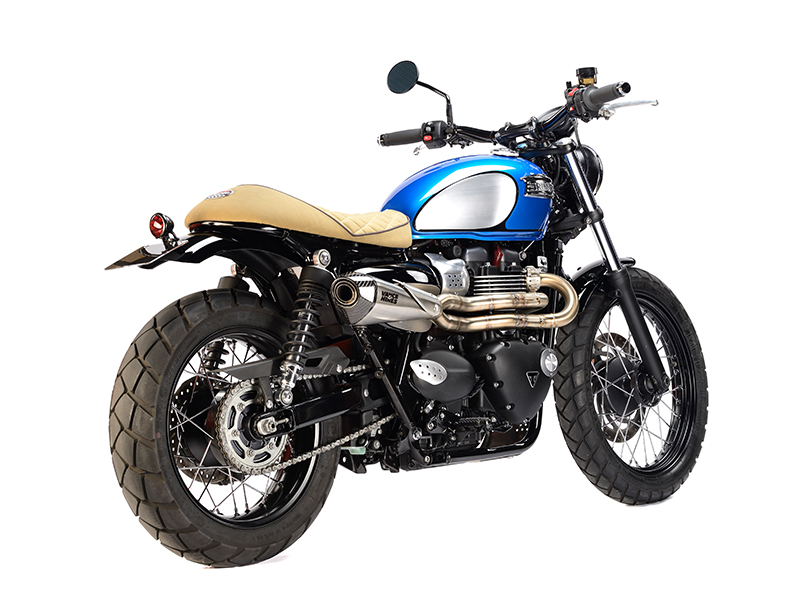 The donor bike was a damaged Street Scrambler from 2017.
For this particular job, the objective was to keep the Street Scrambler spirit while pushing it a little further forward by lightening his overall silhouette as much as possible to make it a more compact machine. This was achieved by adopting a single-seat with a shorter rear frame loop. However, as we had the original two-up seat, we thought it would be a shame to definitively sacrifice the duo ridings.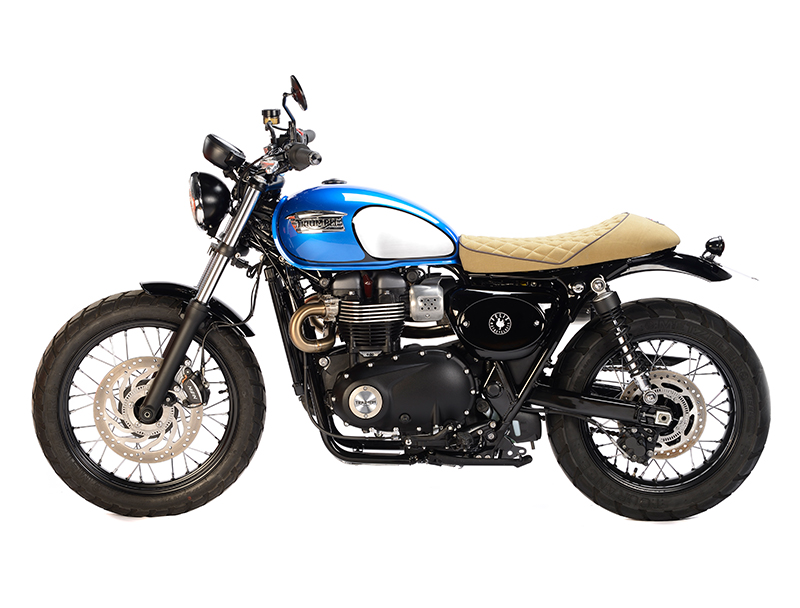 The concept was taken further. The build includes a mounting system for seat modification. The owner can choose if he/she wants a single seat or a stock double seat. And it's as simple as sliding one or the other on the modified rear frame.
On the mechanical side – the Bonneville got a Vance & Hines exhaust, but it was made while keeping the stock double exhaust collector pipes in place. The headlight was borrowed from the Suzuki Van Van. Fenders were made smaller.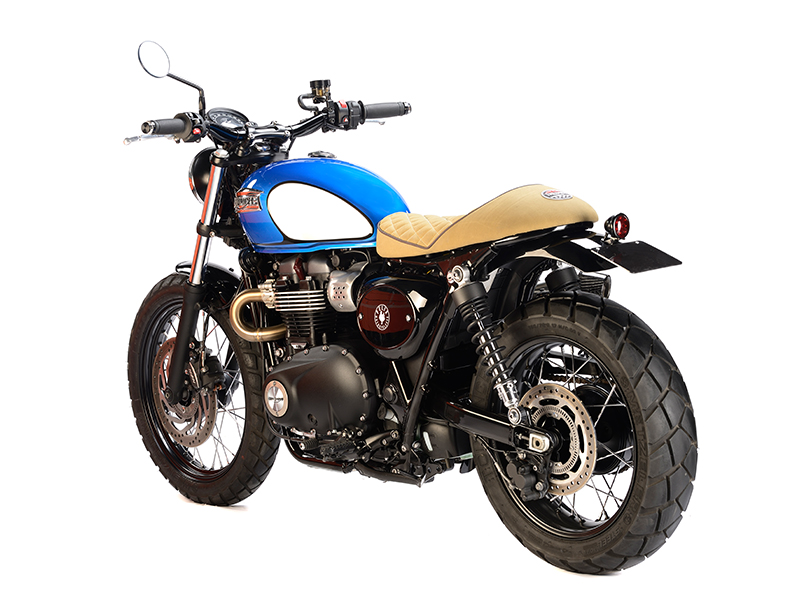 The paintwork is where the name comes from. The blue colour comes from Alpine Renault palette – "Berlinettes". The seat was upholstered with Sahara beige, with diamond stitching.
And that's pretty much it. I think that with Bonneville You can only improve in little steps, as the machine is almost perfect when stock. But the result is brilliant – as (almost) all of the builder's creations. You can find them on their website (there is a pretty good history of bikes there to look at).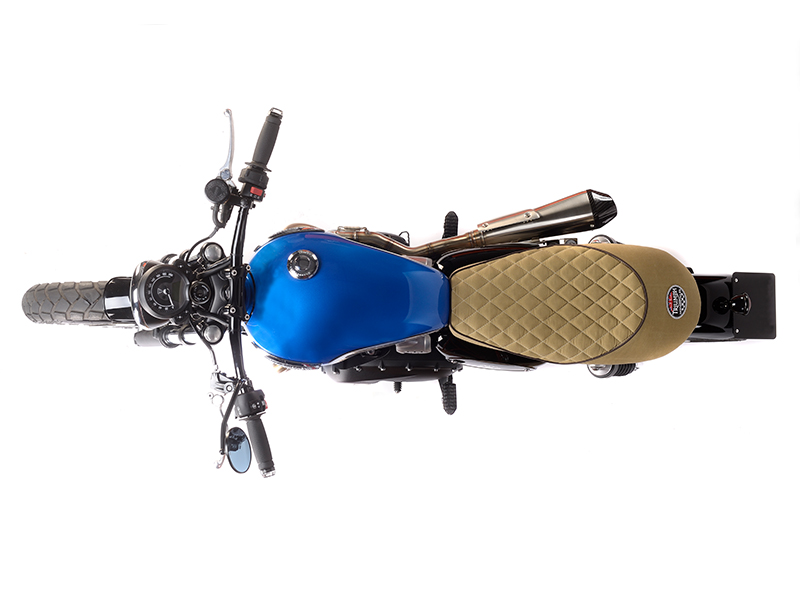 Source: felixmotocyclette.com | Facebook | Instagram
Comments
comments