This motorcycle is an example of one unique approach to building a cafe racer. The composition of the airbrushed tank, wooden tail section and bright colours. In the builder's words:
It all started with a challenge from a client. If we could agree to finish a motorcycle that was an unfinished project, that was in a garage for four years.
Who doesn't like a good challenge?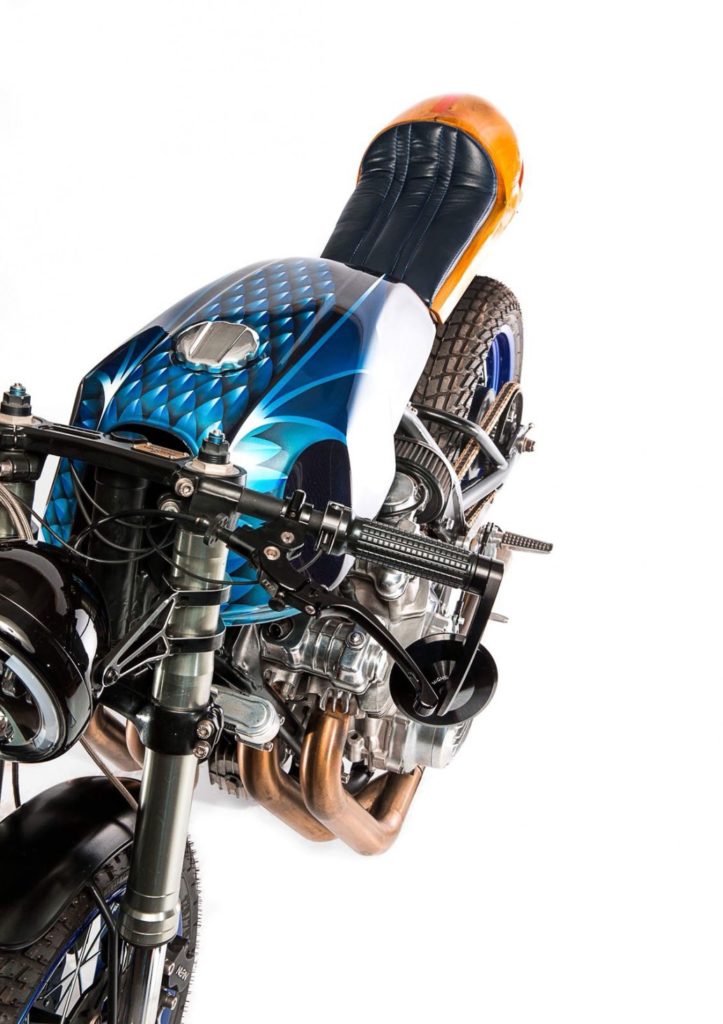 Considering that the bike was in boxes, it seems even more difficult. I generally don't like the air-brush or any kind of "paintings" on a motorcycle (other than some pinstriping or structure of colours). But for a version of the Honda logo that You only see from the top, mixed with some scales motive, with contrast colours, I'd make an exception.
But on the other hand – I love the looks of this inline four. It's a brilliant piece of engineering from Honda. Having a chance to directly compare the 750 from Suzuki with its Honda equivalent – You can see the size difference. And the way these inline fours run…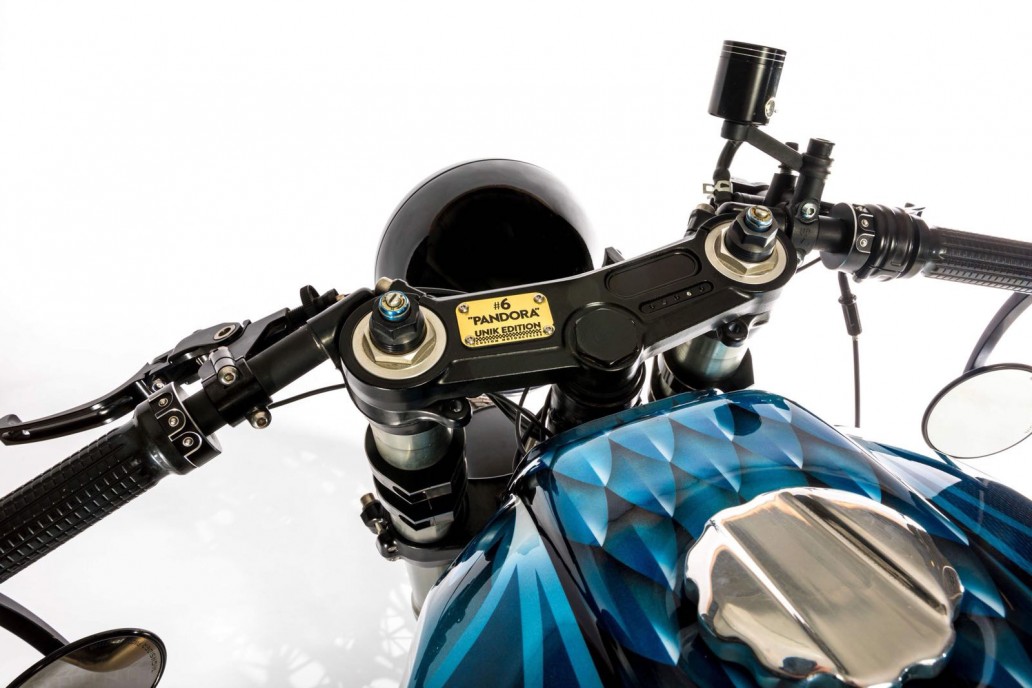 There are many aspects of this build, underlined nicely by the "candy looking" photo shoot. Like the Motogadget mini speedo installed flat in the top triple tree, or custom made swing arm with a central shock. Even the tire choice seems inspired by the scales on the tank. And I really like the retro-looking K&N air filters.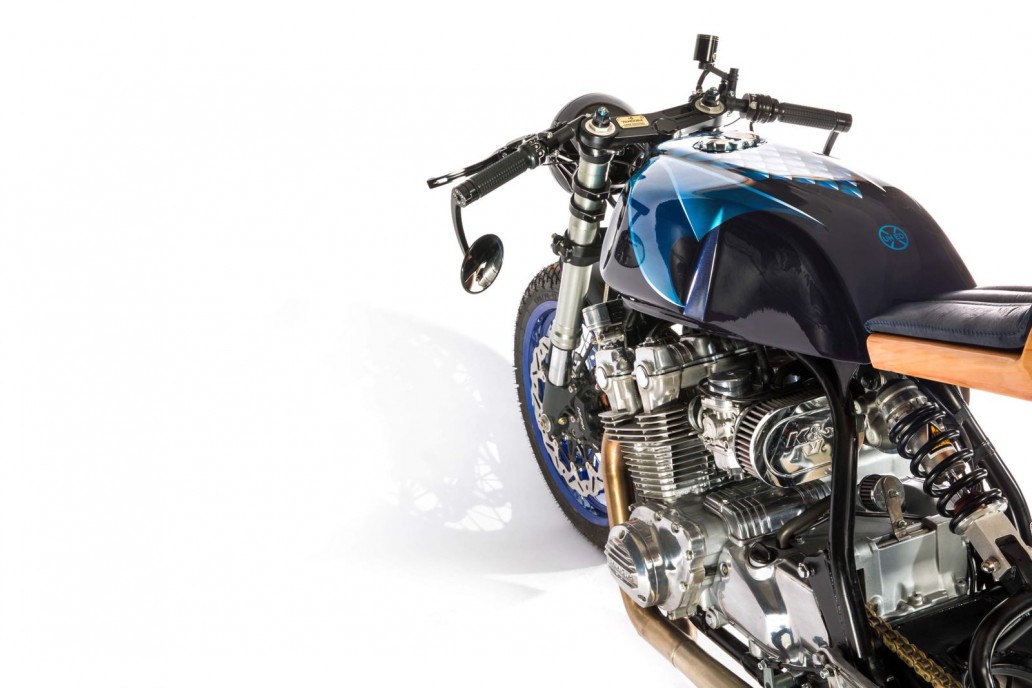 We believe that we have built a unique, memorable, abused and tanned motorcycle. This Honda was our #6 build, and it will always be special because it was our last project from the old workshop, the shed where everything started, and especially for being our first cafe racer. The solid pine wood backet is a piece that will turn many heads dizzy and that make us very happy.

Changes list is available below
Sub-frame eliminated and replaced by a single structure, that supports the wood seat
Replace Twin shock for a single shock with a new cantilever system
Wooden seat with acrylics and lights
Original tank completely rebuilt
Inverted front forks from a Honda CBR 900cm3
17" spoke rims with the original hubs replaced
Complete new wider exhaust system 4 x 2, TIG welded inox
New racing aluminium feet commands, with brake adaptation and gear selector
New Showa shock absorber
Customised dragon wings paint job on the rims and tank with white and two shades of blue
Relocation of the electronics and battery to a compartment under the engine
The electric system replaced for centraline, button switches, manometer and turn signals (all Moto-Gadget brand)
New fender and respective supports, license plate support, stop light and seat, custom
Polished engine, installation of conic filters K&N
The new complete braking system, with double disc braking and ITR levers
Front headlight with integrated turn signals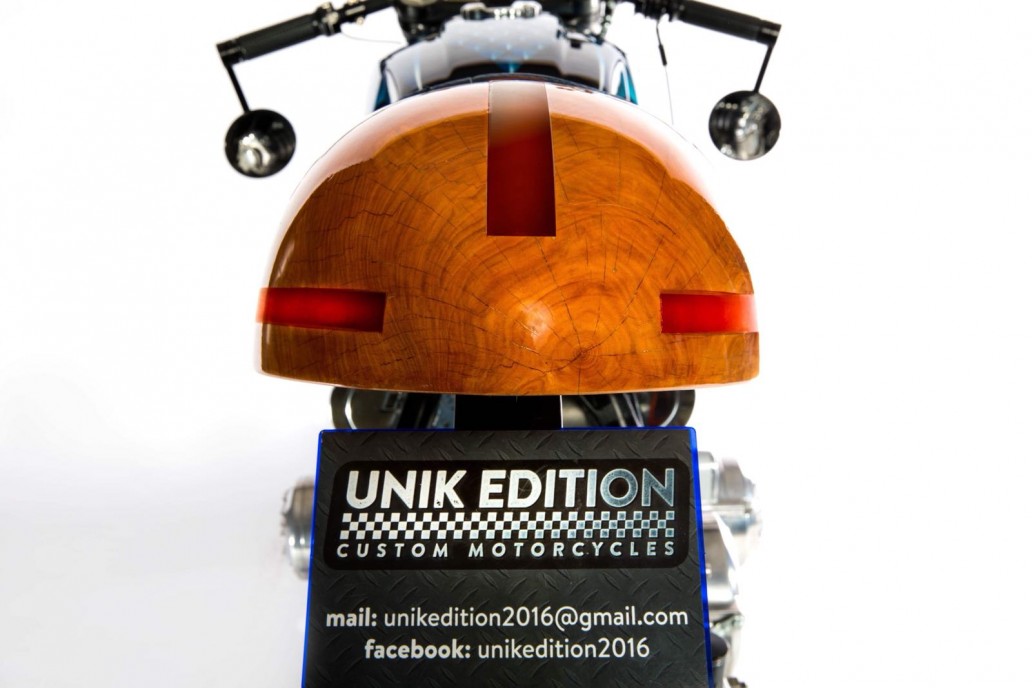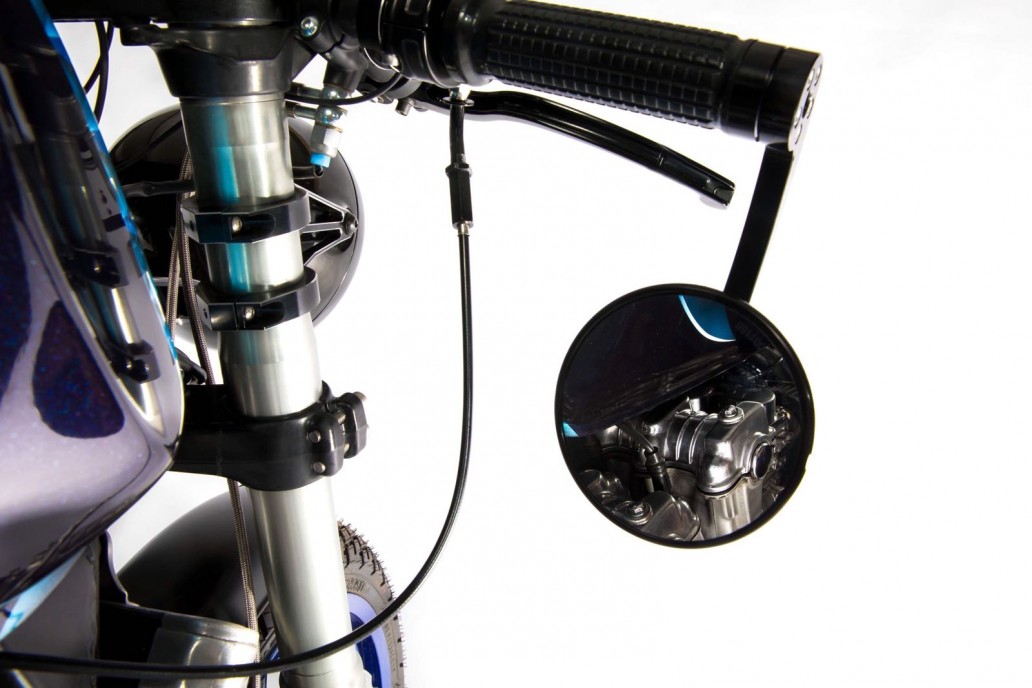 Source: unikedition.pt | Facebook | Instagram
Comments
comments