I wanted to write another Top 5 post for the series… Selected "the brick" from BMW as a topic for the list. And it turned out that there are so many interesting builds based on this iconic BMW series… that Top 5 doubled… This list includes builds based on BMW K100, K75, K1100 and even one K1200. They all have one common thing:
The Brick
So… about the donor bikes. It's a quite iconic construction: flat four cylinders – laying on the side (a reason for the nickname), liquid cooled, fuel injected, with a dry clutch and ABS as standard… in 1982. Quite impressive. This motorcycle not only had a low centre of gravity and very efficient transmission (with only one 90° bevel drive to transmit power to the rear wheel). But it also allowed BMW to enter the liquid-cooled era and meet the emission standards. The result – big tourer, with a heart that potentially travels 200k+ km without any problems.
And it also turned out to be widely regarded as a custom base 30 years after it's premiere. I had quite a few chances to test drive the K-series. I considered this BMW to be my first donor bike for a build. But after a few rides… I resigned – it feels cumbersome. It was the main issue for me, as I wanted something muscular, but agiler… And it's the biggest issue of stock K100 – the weight. I even tried the K75, but although it runs smoother than K100… it's still heavy. But what I didn't consider is a potential it has to lose this weight when You take off the fairings, original speedo, seat etc. It suddenly becomes a different bike. The builds You see there – lost at minimum 40 kgs!!!
So check out the list prepared with most impressive builds based on "The Brick".
1. BMW K100 by Retrorides
This build is from Brasil. It's a classic example of a Cafe Racer build that addresses the biggest issue of the bike – the tank and a general upper line. And they did an excellent job to correct this issue while keeping a lot of original attributes. The tank was straightened, and the seat base was built to follow the bottom line. The front was lowered, the headlight is also at a specific angle… and this is the effect You got. But that's not all – guys from Retrorides also designed and built a custom rear suspension that You can see in the photo.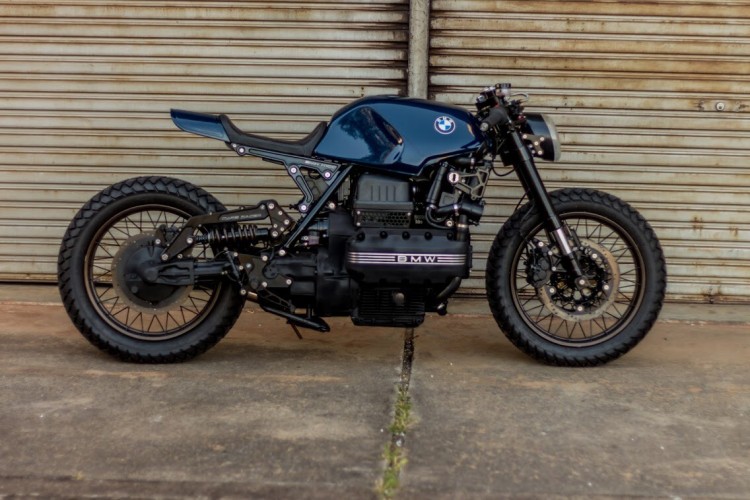 Source: Retro Rides by Lourenco | For more info check out the video from RacerTV
2. K100 by Vibrazioni Art Design
Guys in masks and hammered oil drums… These trademarks have already been featured on this blog for a couple of occasions (ex. this Moto Guzzi Audace). This is a different approach than other builds. More artistic, raw hammered metal, with paintwork from original oil barrels… or what's left of it. Completely modified frame and the tank… Custom made fairing.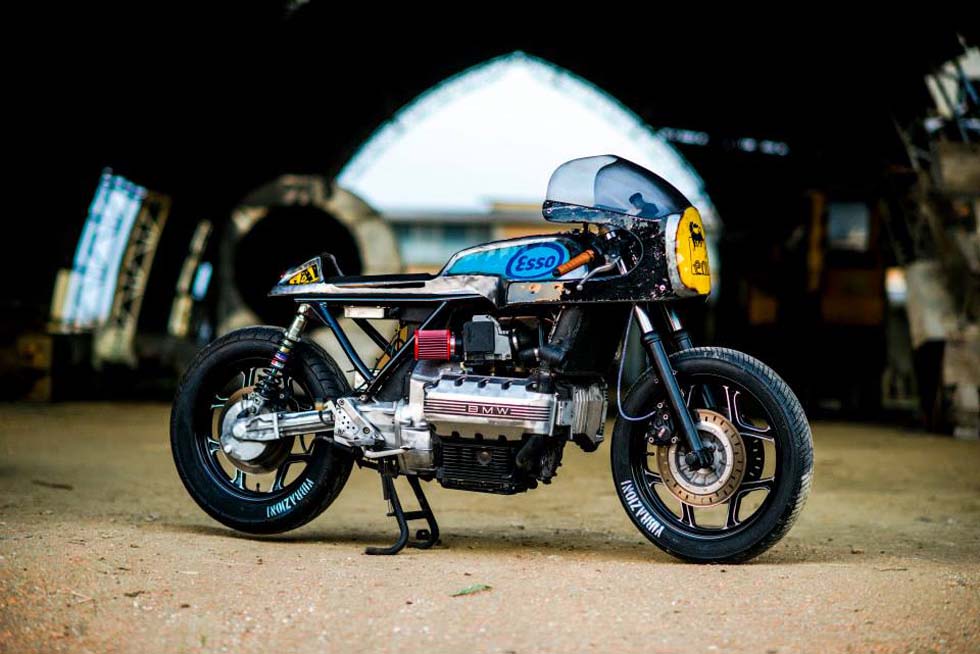 Source: Vibrazioni Art Design | Youtube
3. K1100 RS by Cafemoto
More retro vibe in this one. Classic S fairing from R90 as a tribute to the 80's racers. A shorter seat that accommodates the battery, to clean the triangle profile. KTM 1290R exhaust with a custom-made mount. Some classic BMW colours – and the effect You see below.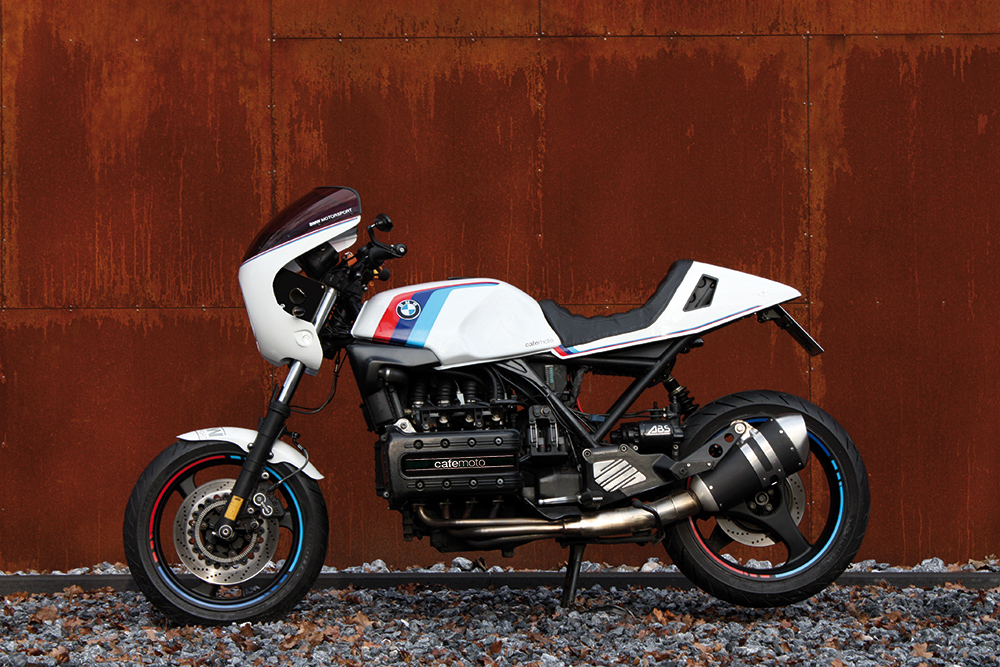 Source: Cafemoto 003
4. BMW K75 by Renard Speed Shop
Similar to build number 1 – also some fancy rear swing-arm suspension design. This one was featured here last year. With more raw and metal look. Upside down forks. Excellent tail light inserted into the fabric of the seat. The smaller brother of a K100. Simple, light and impressive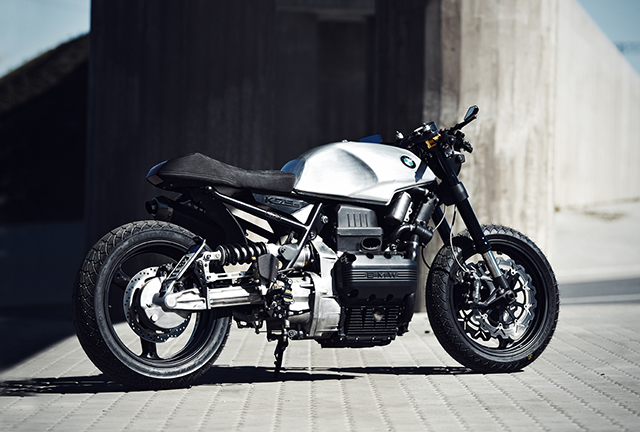 Source: Blog post from May 2017
5. BMW K100 "Camouflage" from Cardsharper Customs
Second K-series build featured on caferacergarage.eu. This one is more style focused. Not much going on in the performance area… A lot of work was put into the design, to make this custom look more balanced and composed. Some brilliant details like rear seat frame construction and super complicated camouflage paint pattern are worth some appreciation. This list wouldn't be complete without this build.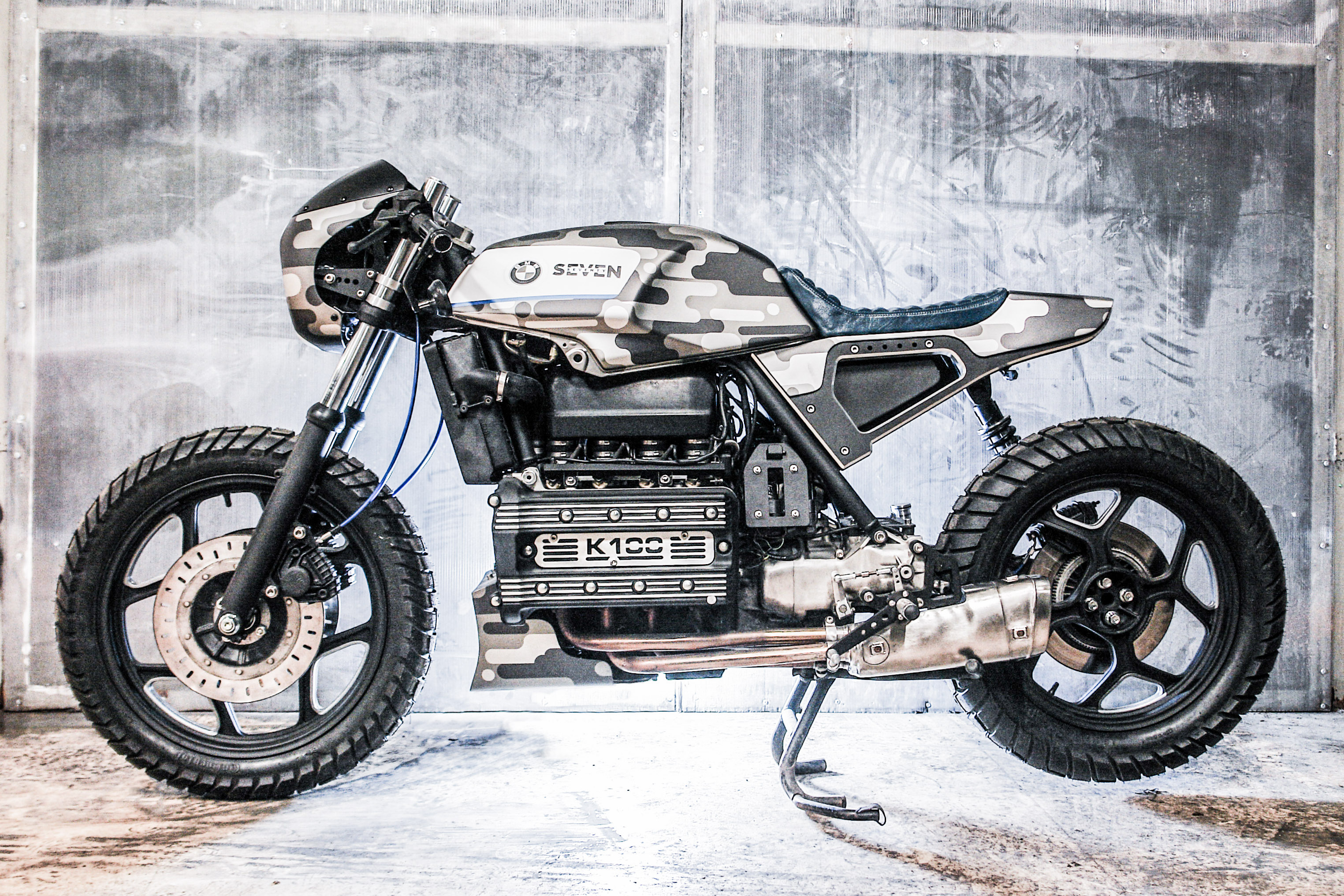 Source: Blog post from March 2018
6. K101 Gatermann
I think this one is the most minimalistic of them all. Super lightweight profile, empty under the seat triangle, only what's necessary is left. You can see how much work was put to clean up the top yoke area, to make the whole side profile look clean and low. The single air filter stands out too.
And the details in blue – eye-catching. You can't go wrong with spoked wheels.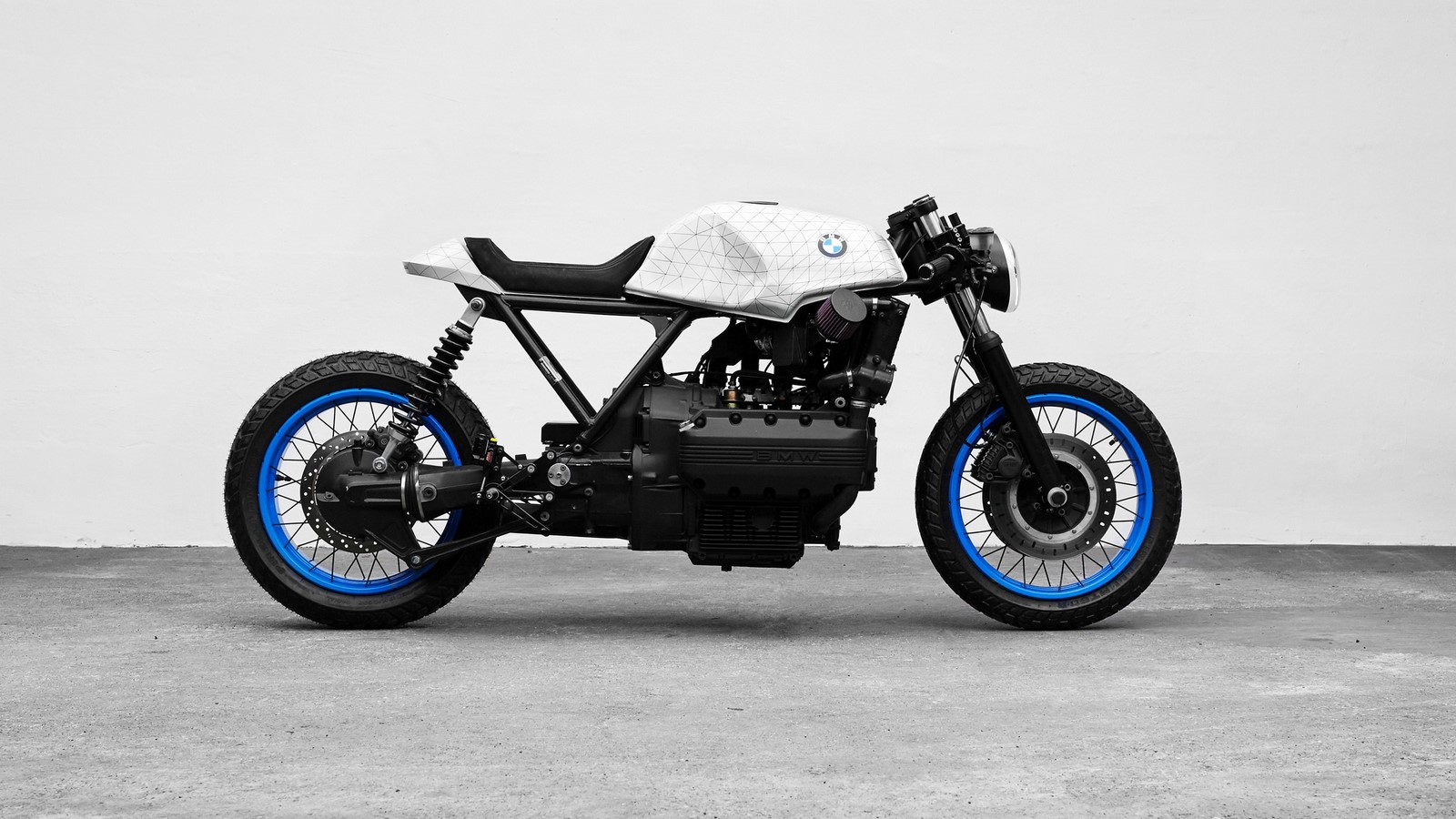 Source: Impuls.xyz | Photo: www.philippwulk.com
7. BMW K100RS by Roel Scheffer
Roel Scheffer was already a guest on this blog (with his GTS1000 build). That was an astonishing build. This one… well… it's not as radical as the Yamaha GTS, but this is the most original front fairing on this list (if not in general). The whole construction keeps the straight line with the original, but modified tank and custom rear seat. It's not an Italian beauty, it's controversial – "Love it or hate it" type, but for sure it's a head turner.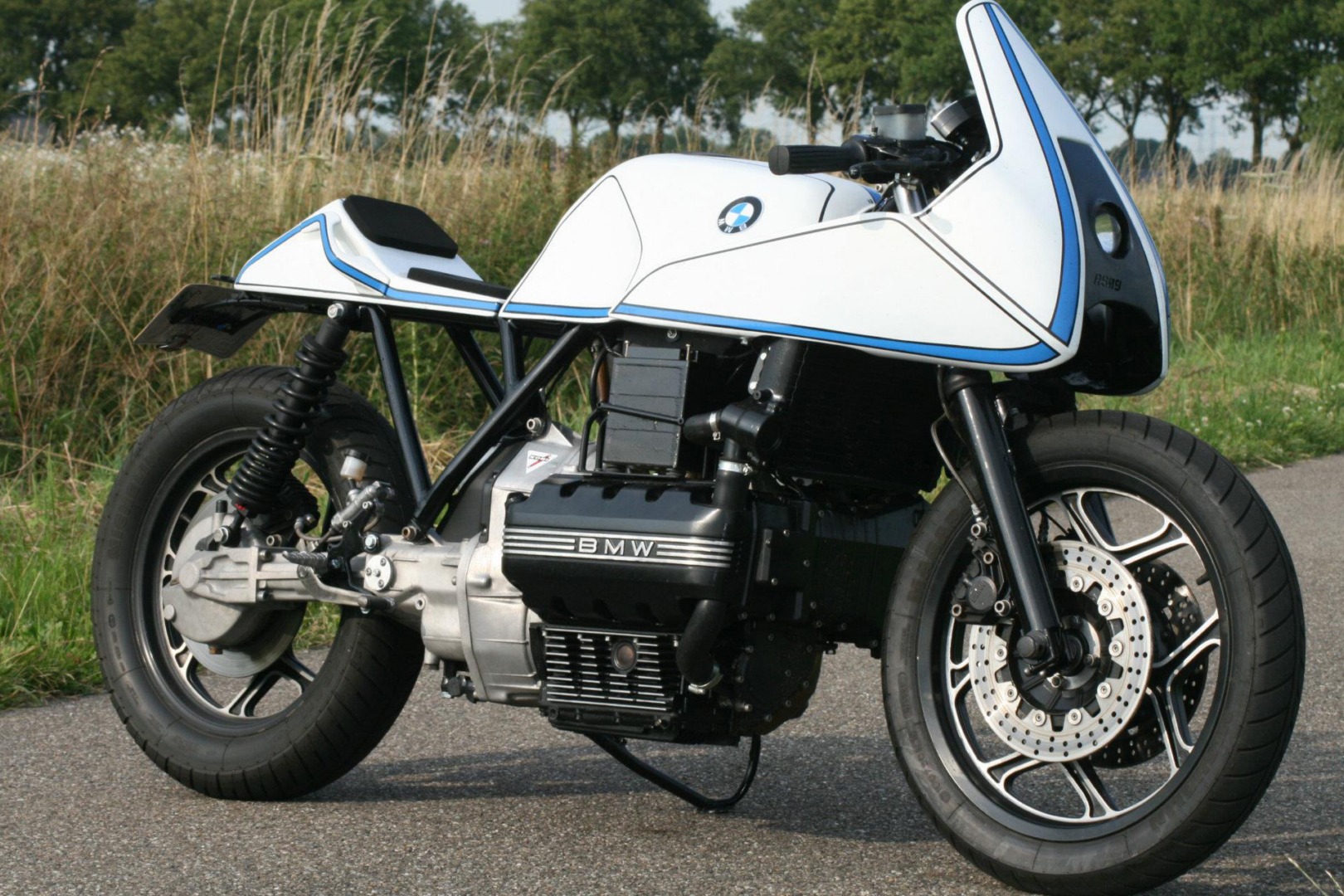 Source: scheffersengineering.com
8. K1200 KAgusta by Larry Romestant
This one is different than the others. It's different by a mile… It's a K1200 engine (with 6-speed transmission) in a K1100 frame, with twin shocks in the rear. With retro-modded wheels (spokes with drum brakes), with a polished metal finish, a ton of custom made parts and mechanisms… and some obvious inspirations from 60's and 70's cafe racer scene. Built by an expert BMW K builder – Larry Romestant. And this is some serious build – since this exact build was presented on Jay Leno's Garage (link below).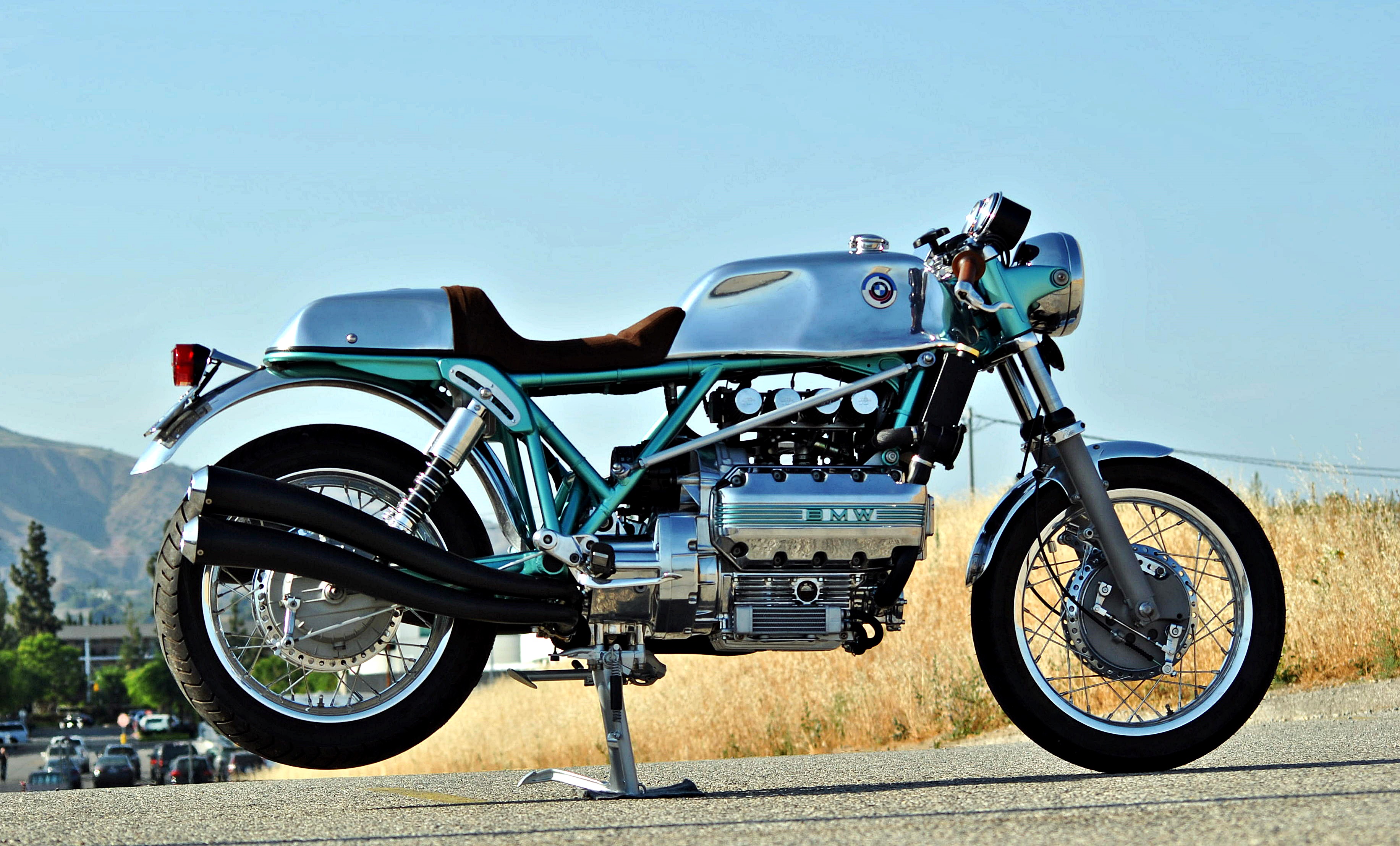 Source: specialks.net | Jay Leno's Garage Youtube
9. BMW K1100LT by De Angelis Elaborazioni
This one was built in Rome, by an IT guy: Giorgio De Angelis, as a hobby. It is listed here since I like the front fork conversion combined with spoked wheels. Especially the rear one, which is also plainly visible due to custom made exhaust – which ends under the seat, rather than next to the tire. Filled with lovely details on the exhaust tip or under the tank… I don't know if I like the "M badge" though.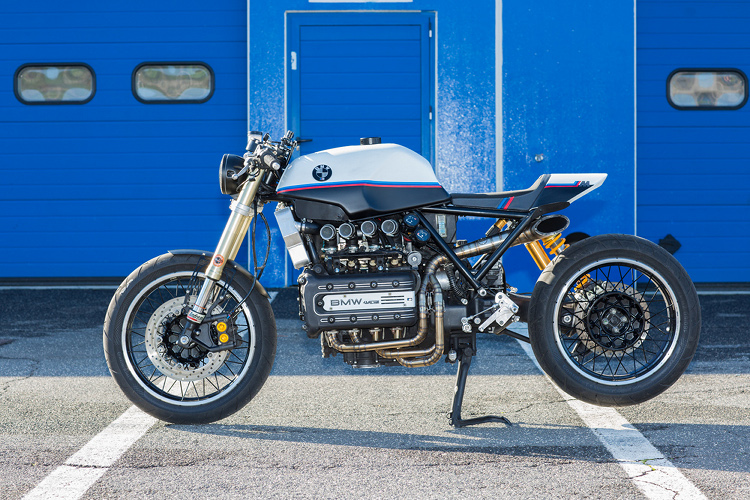 Source: deangeliselaborazioni.it
10. BMW K100 RT "BOES.CH" by VTR Customs
Swiss-based VTR Customs are BMW specialists. Most often their builds are designed for performance. But this one is different. It's about style and retro vibe. I love the boat building details embedded in the project. We all know that the Firestone tires make the motorcycle unrideable, but who cares! If it looks this good 🙂 Check out the full gallery by clicking the link below – it's worth it. If not for the build – than for the boats in the back!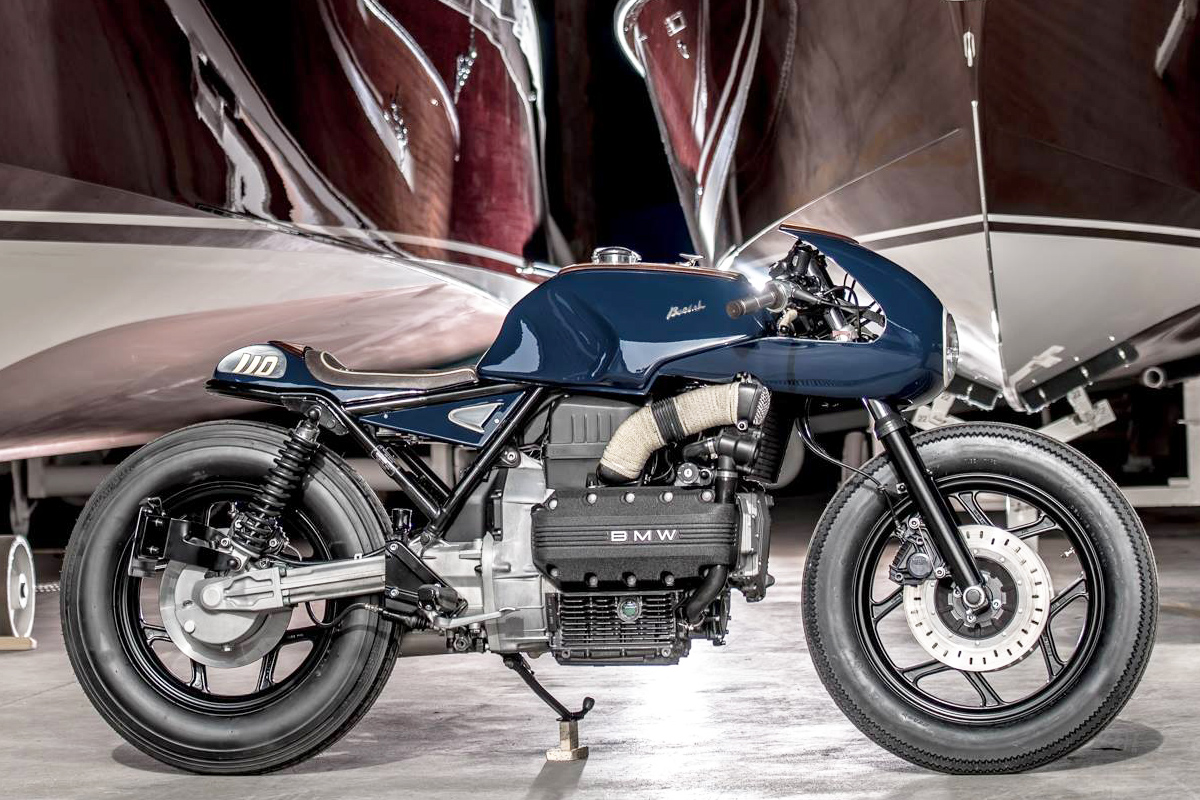 Source: VTR Customs
PS. The list is not a ranking – top to bottom or the other way around. There is no winner here. I just find these builds interesting and most exciting that have one common thing: a family of donor bikes.
Comments
comments