Featuring a CB750 is a tricky thing. Generally – we've seen it all. CB Four stock is a thing of beauty – spoked wheels, one of the best-looking air cooled engines ever and the iconic tank. Just put on some short tail, clip-ons and You got Yourself a nice racer. This is the reason why there are so few CB750 builds on this blog. It's simply hard to find something new or different from the rest.
This one is quite special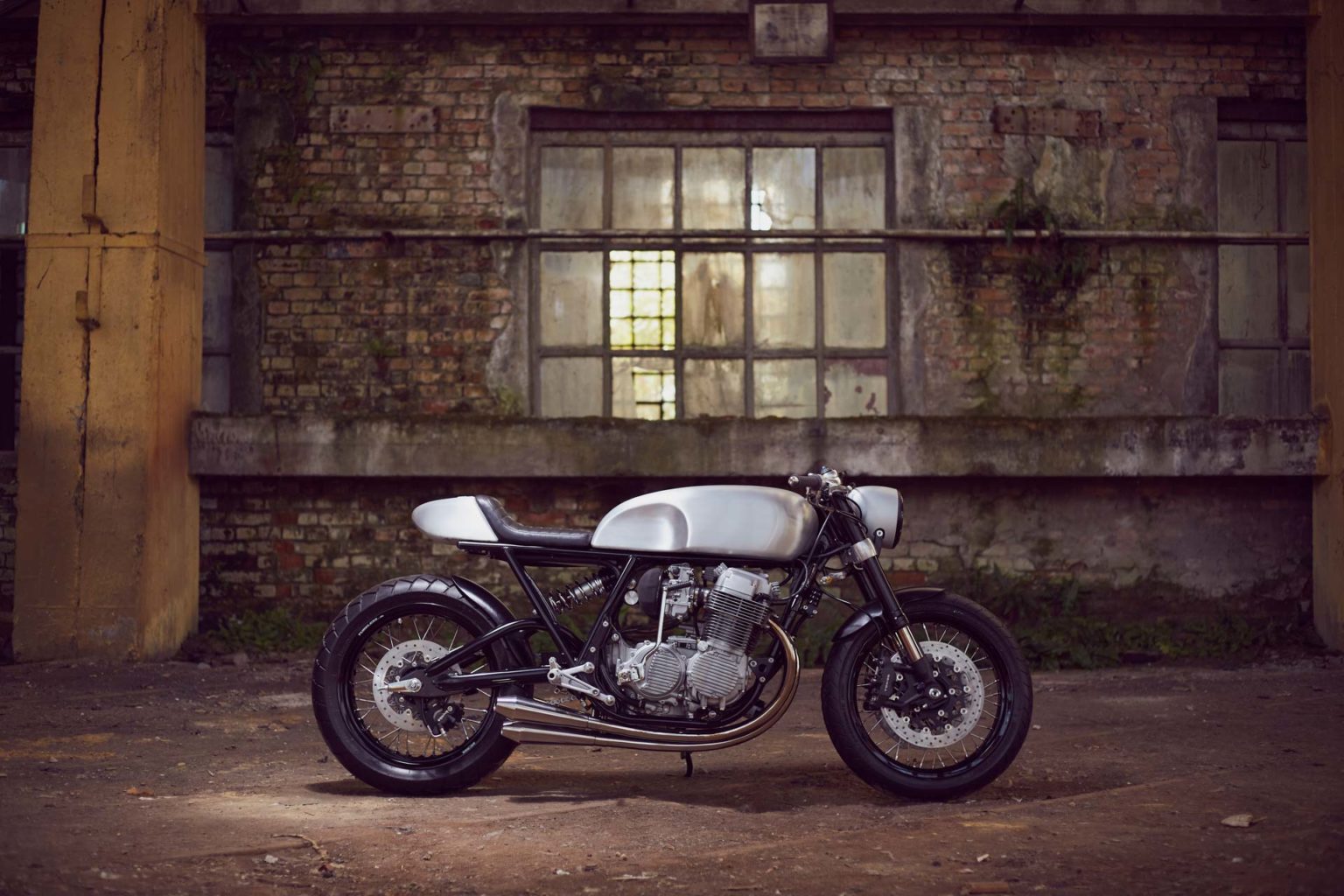 First reason- it perfectly meets my taste of build type. Raw metal or brushed aluminium. Alloy shaping craft to admire, rather than candy paint job.
Second – I can personally relate to the builder, who is an IT guy. And spent multiple evenings building this thing after hours. Doing all mechanical work by himself, but working with help of others regarding fabricating more sophisticated elements and welds. That's how I work. Well… Not only work – find a life balance… between virtual/digital and something You can actually touch, and something that will be there when they turn off the electricity.
Last – You can see that this is no ordinary build. As the list of mods and component sources reaches almost every brand on the market 🙂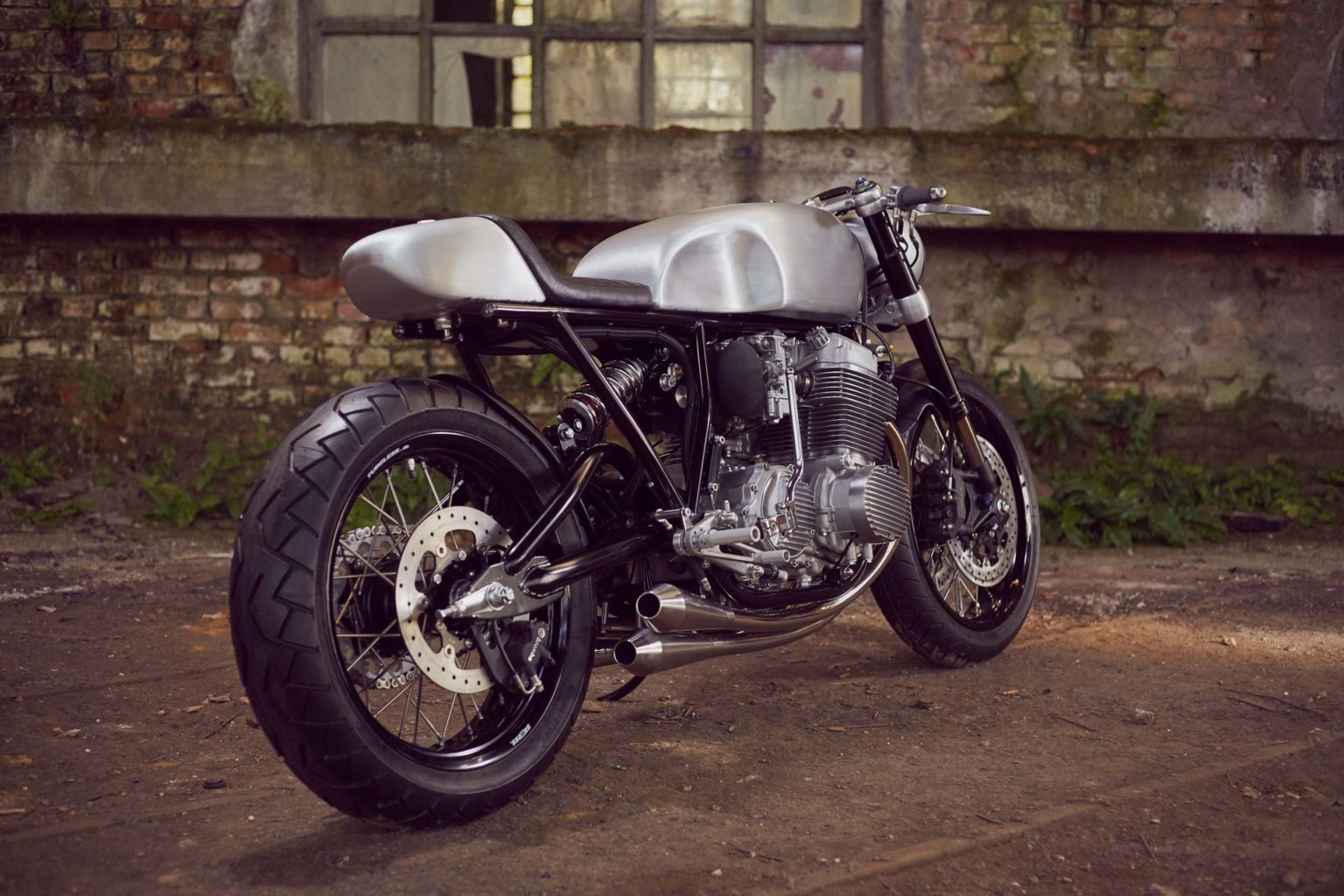 This particular build is based on a 1977 Honda CB750
The frame is shortened and powder coated (actually this is the only paint job done on this machine). Tail lights are integrated into rear frame tubes. The bodywork is aluminium with a brushed metal finish. The tail is actually a functional oil tank with 5-litre capacity.
Front suspension comes from the 2007 GSX-R 750. The master cylinder is hidden under the tank. There is an Ohlins steering damper installed (to keep the shorter front end stable). The rear swingarm is from 1981 CB900 – obviously modified to accommodate a mono shock with some added bracing. The shock itself comes from 2012 Yamaha R1.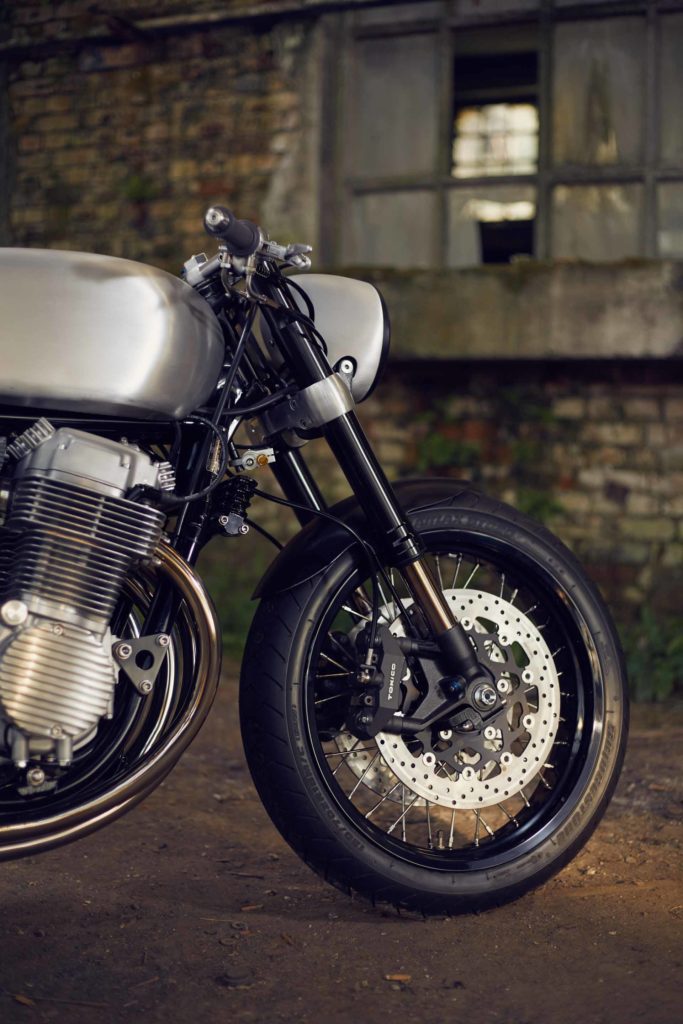 The front wheel is custom made 18-inch spokes. The rear one is from the 2016 KTM Adventure. There is a lot of CNC aluminium on the front end. Triple trees and handlebars are custom made (surprisingly). Even controls are fabricated.
Regarding the electrics – there is a Motogadget M-Unit in place. The heart of the whole system, working with the Motoscope Pro digital dashboard.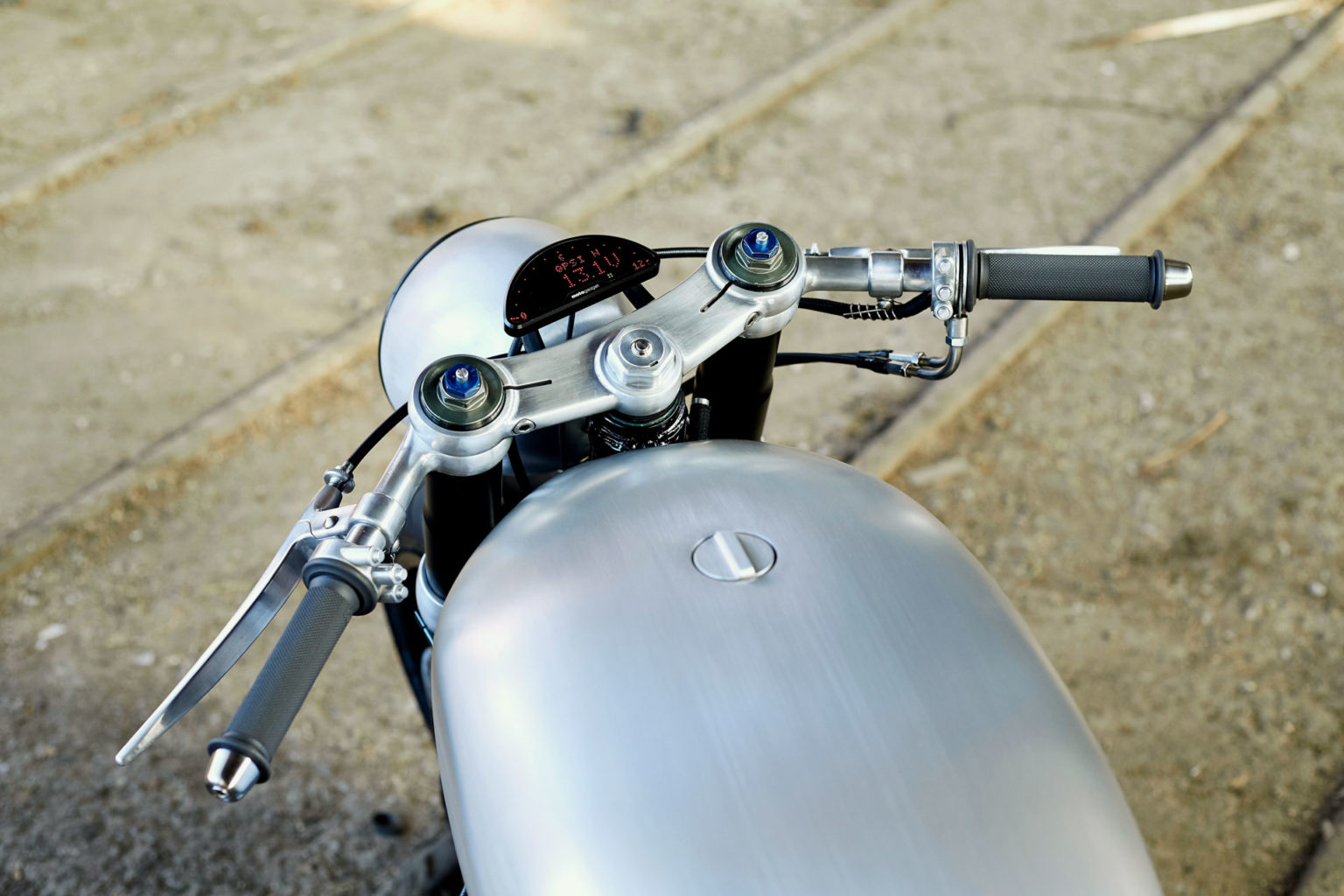 All the measuring devices are implemented so Motoscope can display, beside standard information, oil preasure, oil temperature, engine head temperature… etc.
The charging system was improved using components from a modern bike – 2009 Yamaha R6. The front light is a 45W LED unit.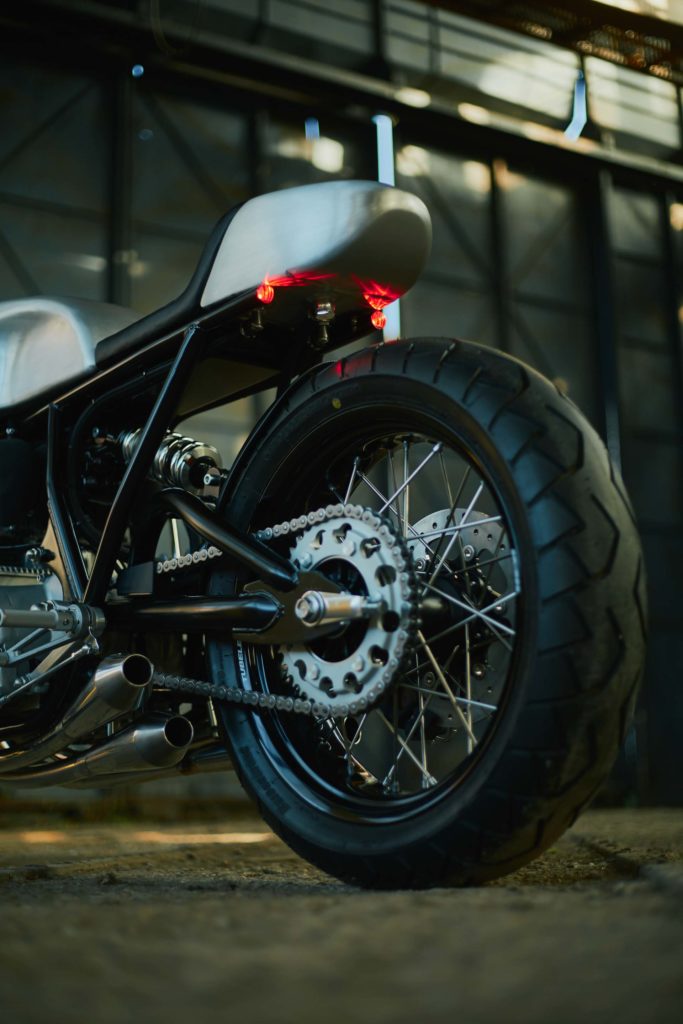 What You don't see – are quite extensive engine mods
The crankshaft was lightened and balanced. The flywheel was sourced from the same Yamaha that provided the charging system. Forged connecting rods, work with Wiseco pistons. Compression increased from 9:1 to 10.5:1, as the engine displacement went up from 736cc to 836cc. Engine chain sliders were custom made with polyamide plastic – eliminating the chain rattle engine noise. Ported and polished head, lighter valves, performance springs and cams.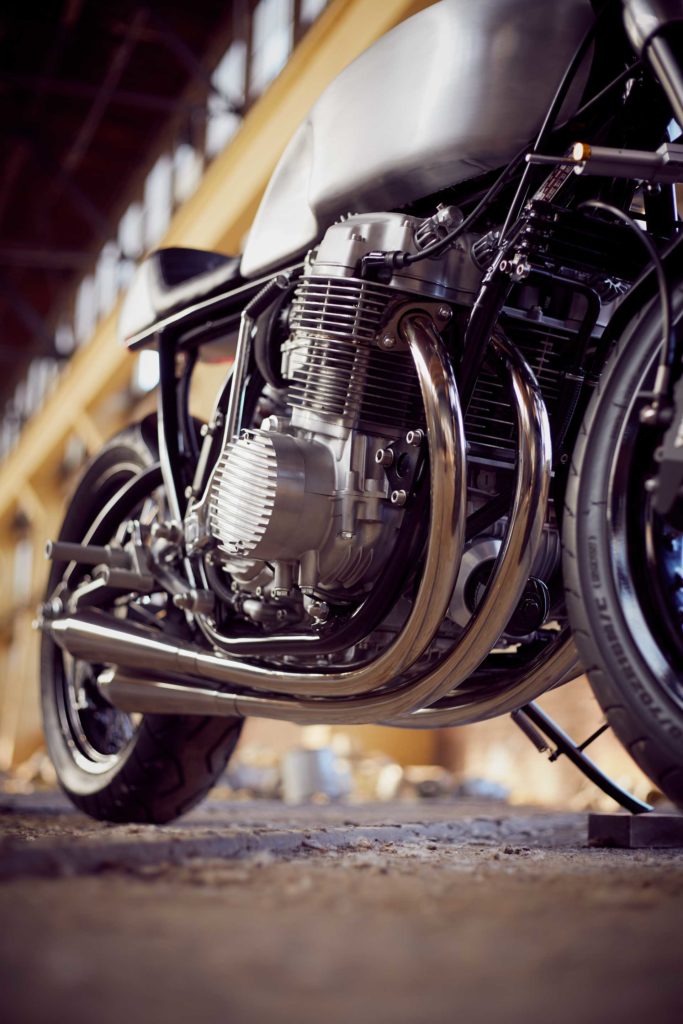 Optical Multisparc with timing advance curves preprogrammed takes care of the ignition. The driver has 4 choices of curves depending on the mood – the switches that set up particular map are hidden. Rev limit is set to 10500 rpm.
Fuel flows through Mikuni RS34 flat slides, producing the power of around 90 bhp on the rear wheel! And the cherry on top of the cake – is the 4 into 4 beautiful exhaust that doesn't have any straight line in it.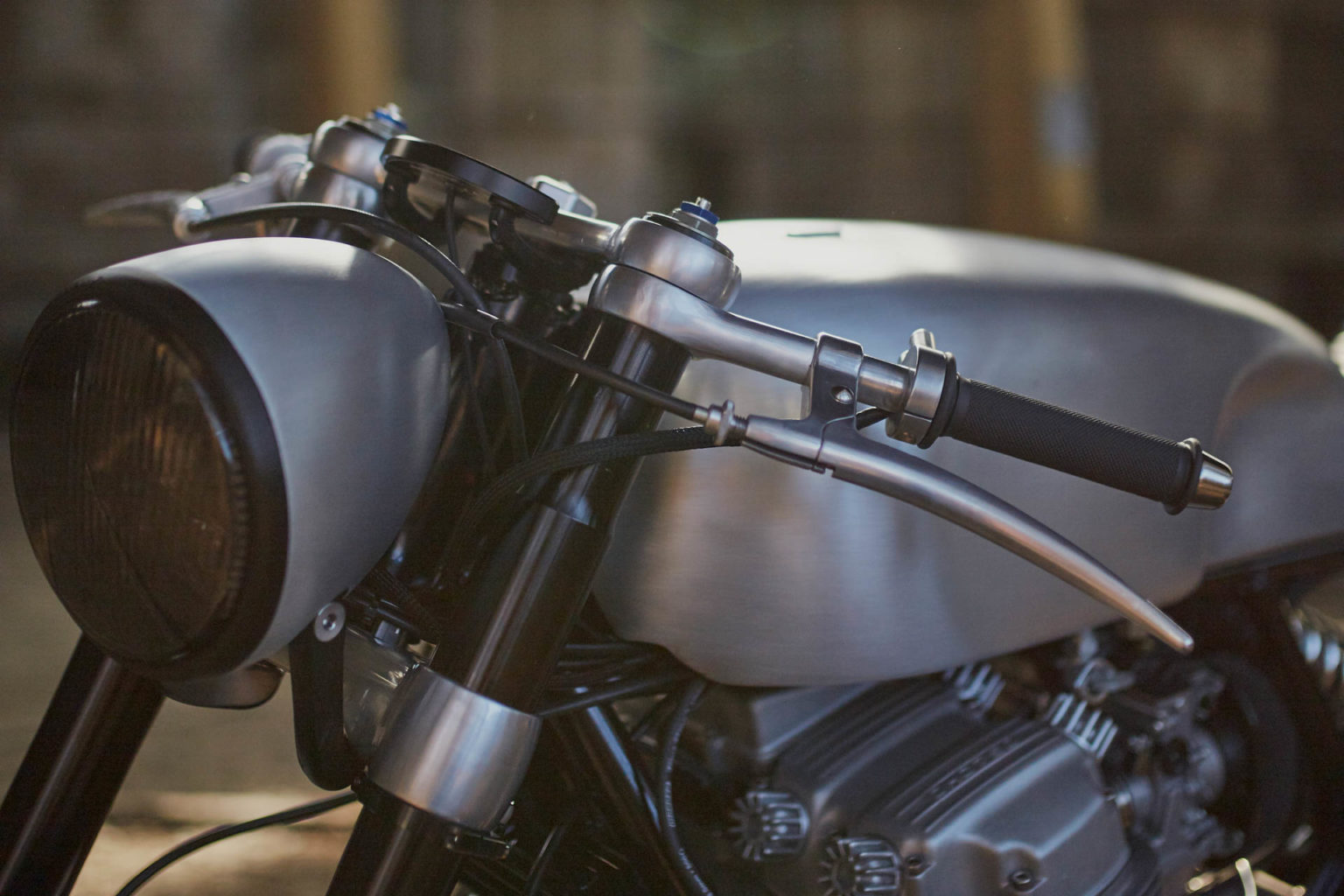 A very impressive range of changes and level of details in the mechanical craft. Taking extra care of the controls, and moving the brake master cylinder under the tank, resulted in super slim front end and clean handlebars…
I hope to see more motorcycles coming from Mirko Messner. If someone starts with such a punch… Next build will be definitely something of legendary proportions:)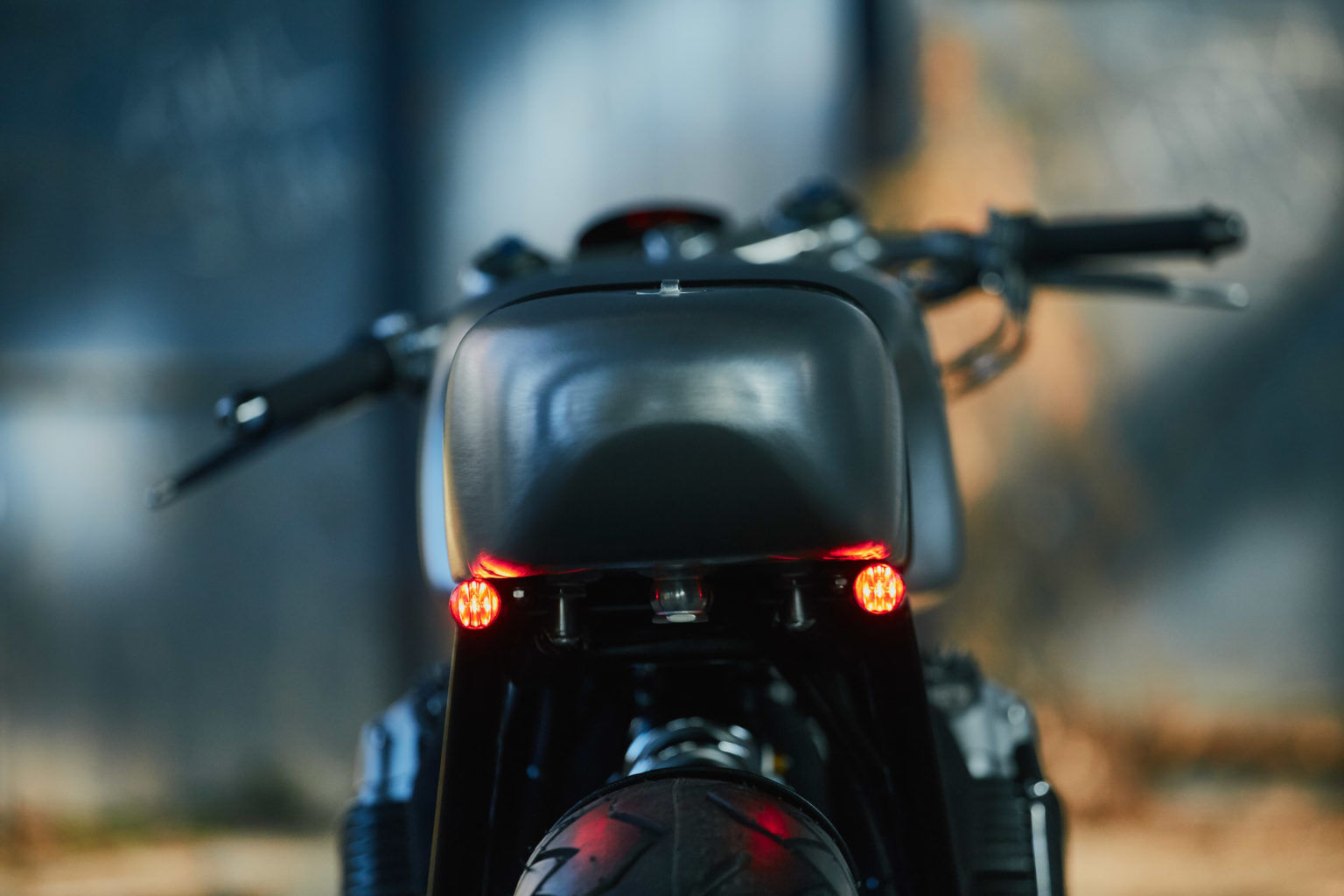 Source: messnermoto.com | Instagram
Comments
comments