10 years ago, the stereotypical Cafe Racer would be Honda CB based. But times change and there is a thing called "fashion" – even in the motorcycle world… And right now I believe that the typical donor bike would be: a Virago… specifically with a Benelli Mojave tank + seat… that You order from Thailand. I have to admit I'm not a big fan of Virago builds – exactly for this reason: there is too many of them. But You can't deny – that this is some good looking setup.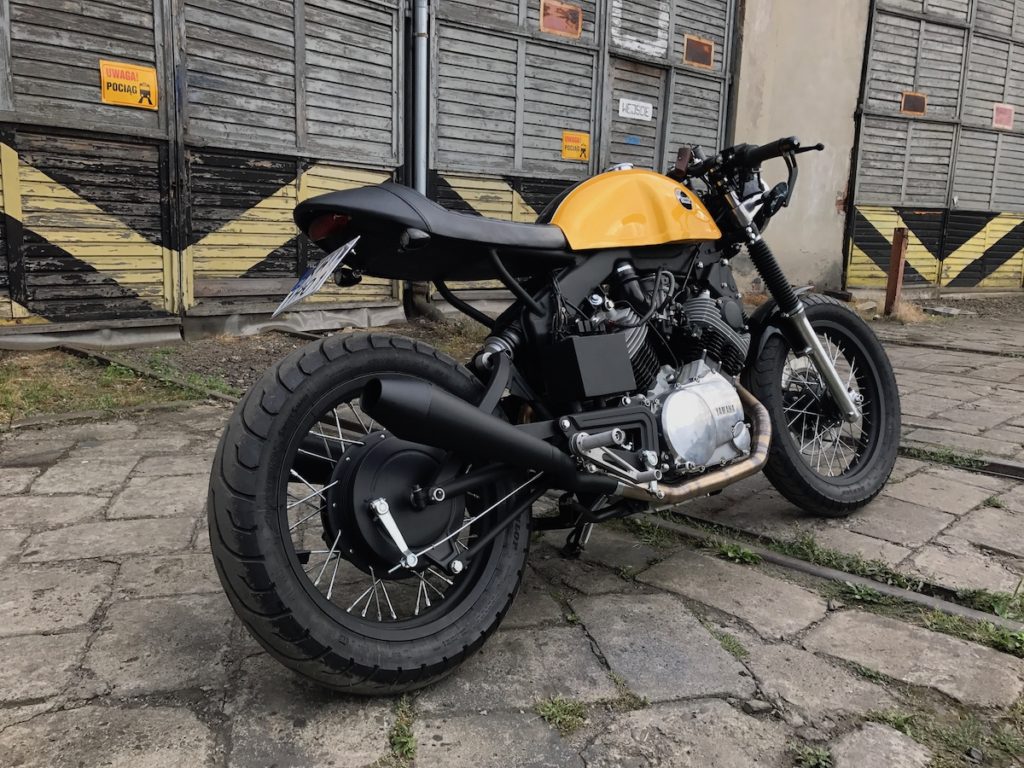 This Yamaha XV 920 (Midnight Virago) is from 1983. It's a build by Krakow (Poland) based Wheel&Steel garage. Who actually is just one person – passionate about motorcycles.
The bike was completely restored.
Every part was inspected, refreshed, rebuilt, painted, powder-coated or simply – bought new. The engine was opened and checked for wear. There are quite a few new parts installed there (bearings, crankshaft, starter motor – a typical weak spot of this engine etc).
Among many things – what is nice about the donor bike – is the frame, as it doesn't need to be cut and modified. The rear subframe is simply bolted to it. So a custom seat support can be manufactured and then attached without any welding.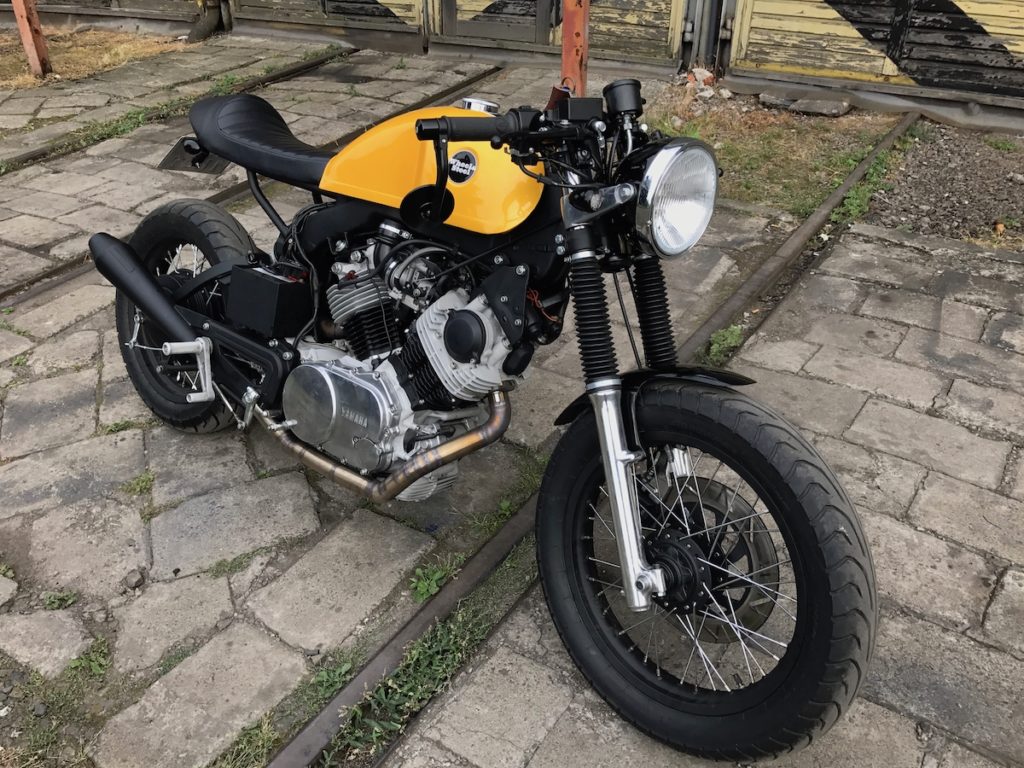 The tank paint You see here is not ordinary yellow: it's a Triumph yellow 🙂 Nice touch to underline the British Cafe Racer origins. Custom-made spoked rims with modern tires are super nice touch. You can't go wrong with spoked wheels. Even a 1000cc sports bike would look good 🙂 Rear sets mounting points were also changed – to adjust the rider position for the clip-ons.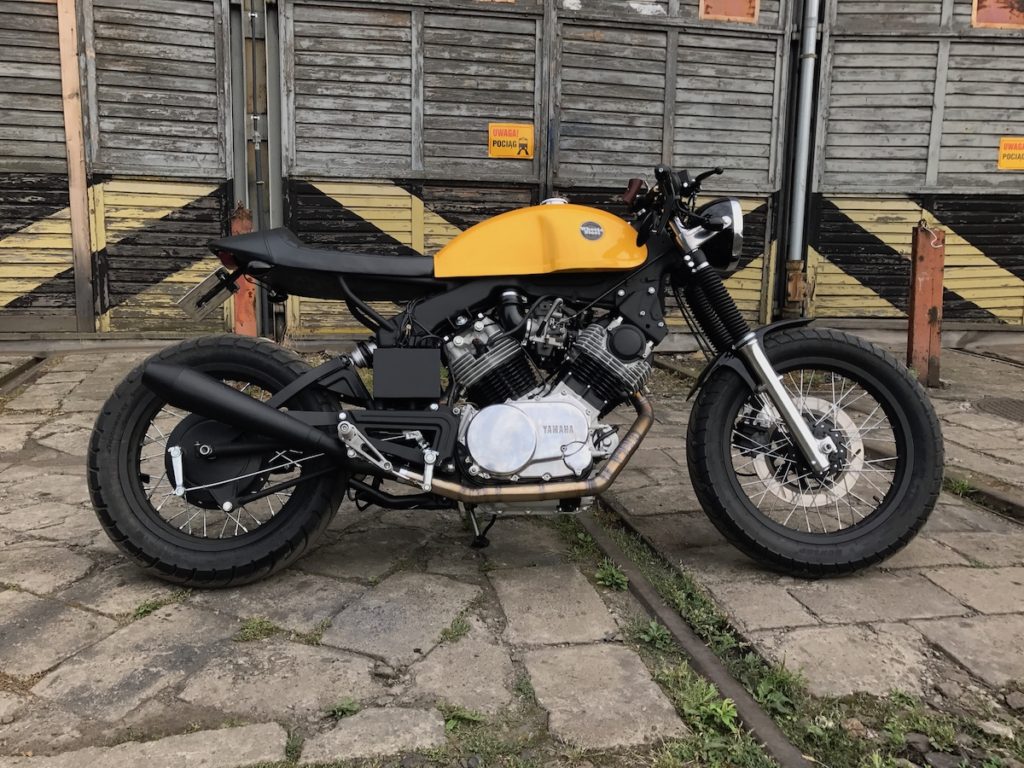 Other mods include:
Custom exhaust made of stainless steel.
K&N filters + re-jetted carbs
progressive front springs (stock forks)
LED lighting accessories
All the electrics are hidden and the battery discretely mounted on the frame side
The effect is quite impressive. You can check out the whole build process, that took a year, on the blog linked below as a source.
What's more: this Virago is for sale now for about 6800 EUR (more details here – You probably will need to use Google Translate since it's in Polish).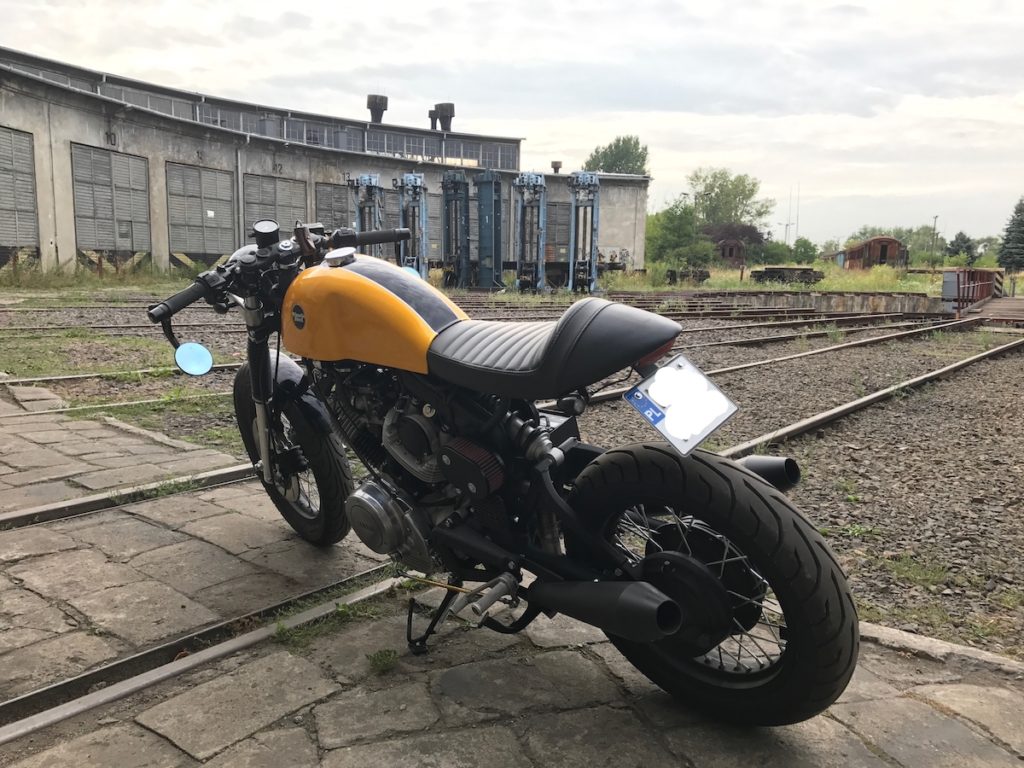 To summarize…
is this Virago the perfect cafe racer project?
Regarding the style and aesthetics: Yes. But in my opinion: It's not finished 🙂 I can't say that it's style over substance – as definitely the reduced weight makes it handle better than the original. And that is generally the point. But there is more to improve!
Front suspension. These old type front forks should be upgraded to increase the stiffness. The rubber covers help a little with the looks, but I would definitely see some upside down suspension there with… double brake disks, for improved stopping power.
Rear suspension. There is an original spring still over there. It shouldn't be difficult to order some modern adjustable (ex. yellow) shock absorber.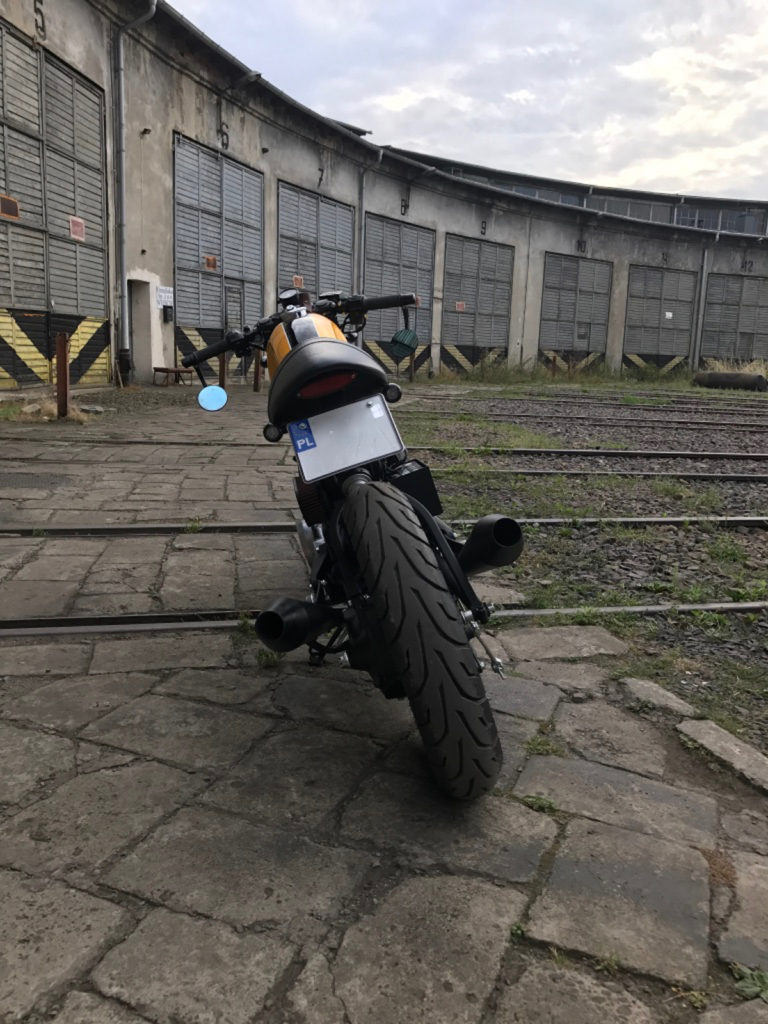 Both listed mods would improve the handling and stiffness of the bike. They don't need to be expensive – as it can be easily done using some swaps of used parts. And since it's a Virago – probably more than 50k bulletin board threads are available for inspiration. It should be super easy to modify. And at the same time – the side effect would be some more muscular looks!
Think about it Wheel&Steel 🙂
Source: wheelandsteel.com | Facebook
Comments
comments